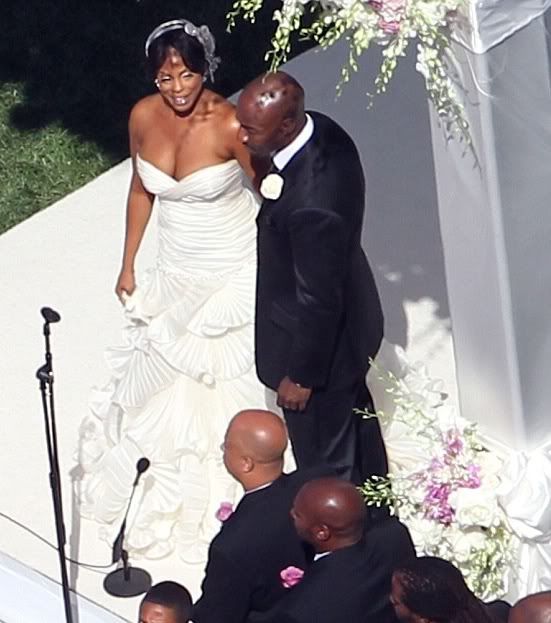 As a former wedding planner, lover of all things wedding and huge fan of the funny Niecy Nash, missing the TLC special of her wedding to Jay Tucker was just not an option.
Over 40 single ladies, be inspired! If love and marriage are on your radar but you feel anxious that your chances may be diminishing with age, stop lying to yourself. Forget the hype, the stereotypes and myths with messages like  "You have a better chance of getting struck by lightening twice than you do of getting married after 40" and instead look for examples of over 40 women who are finding love and marriage and go for what you want.
The vivacious 41 year old Niecy Nash – previously divorced mother of 3 whose own mother lives with her and her children – had fears of her own, "I was afraid I wouldn't find anyone who wanted to marry me, my kids and my mama!" But the 2 hour TLC special was a 40+ and Fabulous affair full of insight, wisdom and ah-ha moments culminating in an unforgettable Memorial Day weekend wedding. Let's see what important life lessons we can take away from Niecy Nash's Wedding bash.
When I Fall In Love…
"People think the first time you fall in love, it's the last time. That's not true!" ~Niecy
You tell 'em Niecy. I personally have had 5 proposals, 3 engagements and am presently enjoying husband number 2. If it were not for the capacity to love over and over again, I would be deprived of knowing the joy and fulfillment in the marriage I have today.
Despousing the House
"Every day I look at this closet I see dresses and hangers and shoes. I don't see room for me. I can not condense 10 years of my single life into one closet. All this furniture you shared with your ex. We need to start our lives brand new." ~Jay

The plan was for new husband Jay to move into Niecy's house after the wedding. This is very similar to my situation except my ex husband never shared my home with me. I purchased it post divorce and had always occupied it alone. Now for any couple in this situation – where you won't as newlyweds be setting up a new home together – but one will be moving into the already established home of the other – it's very important to take steps to make it feel like "our" home and not just your place that your spouse moved into.
While Jay was away on a business trip Niecy did a complete bedroom makeover. She even went the extra mile of moving all of Jay's things out of his place and into "theirs." Jay returned and was so moved by the surprise; he got down on one knee and proposed all over again.
Flexibility Has it's Advantages
"The very thing I said I didn't want ended up being the exact thing I want for my wedding." ~Niecy
Niecy and I share something in common; neither of us are keen on outdoor events. Competing with the elements of sun, wind, rain, heat, cold or insect of any kind is an iron clad deal breaker and Niecy made it crystal clear to wedding planner Michelle that an outdoor wedding was out of the question. So when Michelle had Niecy meet her at a venue clearly intended for an outdoor ceremony and reception, both Niecy and I thought Michelle had lost her mind. But the place was undeniably enchanting and completely softened Niecy's resolve. See, when you're so stuck on your own opinions and ideas – you can't be shown anything – and in many cases you'll always lose out. But Niecy moved out of her own way, opened herself up to change and as a result her outdoor wedding was sheer perfection.
All That Looks Lost Is Not
"I believe the light at the end of the tunnel is not an oncoming train. Something is coming that I think can bring us all together, if we just stay committed to making it happen." ~Niecy
As a stepmom, I know first hand when there are children involved there is always concern for how they will accept this new marriage, this new individual, and transition into this new family unit. Neither of Neicy's children seemed particularly overjoyed about this union but thankfully Niecy didn't allow it to derail her happiness. Both she and Jay remain hopeful and positive that with time, patience and consistent effort this family will indeed mesh as a cohesive unit.
I Am Not Going To Lose My Cool – Not on TV Anyway
"Don't tell me to just get over it!" ~Niecy
As a former wedding planner my first priority was to keep my brides on budget. So I was really put off by wedding planner Michelle's cavalier attitude about Niecy's money.
7 days before the wedding Michelle phoned Niecy to inform her she was not $1,000, not $3,000 but $12,000 over budget. I mean, how does a number grow to that proportion and you not know? Not only was she over budget, but she had no flowers or chairs. That's right, wedding planer Michelle had failed to include banquet chairs into the rental contract. At this point I'm thinking Niecy should have called David Tutera. In her sit down meeting over the budget faux pas with a visibly and understandable upset Nash, Michelle retorts, "I'm sorry it took me a day and a half to discover the chairs got left off! Get over it!" Okay, forget David Tutera, someone please dial 911 – we're going to need the police and an ambulance.
Not only was I thankful for the presence of television cameras and a crew of witnesses, I was thankful for that thing that happens to us as we mature. The arrival at a place in our lives where we've found our voice, we don't allow people to walk over us, we don't think it impolite to speak up for ourselves, but even in intense moments we can respond to insensitive and idiotic remarks with poise and grace. I admire Ms. Nash…excuse me…Mrs. Tucker for her fine example of being in that place. Congratulations Niecy and Jay!